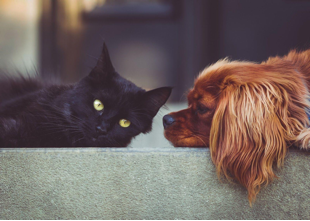 Photo via Pixabay by ​Stock Snap
Buying or selling property is a big undertaking; there are tons of details to think about and plan for, and even if you have help from your family, it can be overwhelming. If you're selling a home, keeping it neat and clean for potential buyers, looking for a new home to purchase, going through the actual buying process, and making a move are just a few of the things you'll need to prepare for, and if you have a pet, there are even more considerations to think about.

Your cat or dog may feel like another member of the family, but it's important to remember that when you're dealing with a real estate transaction, your pet should stay as behind-the-scenes as much as possible. Keeping them safe and happy is one reason, but you also need to ensure that they mind their manners and don't interfere with a potential sale. With a little planning, you can keep your pet--and your home--in great shape when it's time to sell.

Here are a few of the best tips on getting through a real estate transaction with a pet.
Keep things clean
A large percentage of homebuyers say that one of the main reasons they pass on a home is pet odor or evidence of damage from a pet. Go through your home and look for anything that needs fixing or sprucing up, such as baseboards, window blinds, carpeting, and furniture. On average, homeowners in San Diego report paying ​$116-$221 have their carpets cleaned. This is a small price to pay to make an impact on a potential buyer. You can also use an old sheet or blanket over your furniture to keep it free of pet hair, clean and repaint, and take care of any existing odors that are hanging around. Making sure your home smells clean and looks move-in ready is one of the most important parts of attracting buyers. For more information on how your pet might be keeping you from a good sale, read on ​here​.
Hire the right movers
Having the right helpers on moving day means you'll have a few less worries on your shoulders, but it's important to talk to them about your pet and make sure they're okay with working with them, especially if they're prone to being aggressive with strangers.
Create a space just for your dog
If you're going to have a Realtor or potential buyers over for tours of your home and you aren't able to make arrangements for your pet to be somewhere else, consider creating a space just for them, where they can be safe and comfortable. A kennel, a crate, or a closed-off room will do just fine; just make sure they have access to water and a comfy spot to lay in for a little while.
Moving can take a toll on pets, so be sure to give them extra love during this time to cut down on any anxiety they may have. Try to stick to their normal schedule if possible, and refrain from buying new toys in favor of keeping their old favorites around. This will help them get acclimated more easily. For more tips on moving with a dog, read ​Cesar's Way​.
Article provided by Medina at DogEtiquette.info. Please support the ​San Diego Humane Society​.